The world's most advanced OnlyFans teaching platform.
'ONLY ASTRA ACADEMY' is a 6-week-long articulated program designed to help you build, launch and scale a successful Only Fans Management Agency
When new methods
 come to the

 industry, 

Only Astra Academy

 will be the first and 

only place

 

to teach you how to profit from it.
Sell profitable products online. 

Industry experts will train you to find winning products, create the perfect store, and generate traffic on your sites.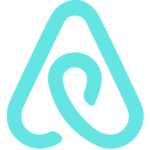 Our modern, practical program

has led to

hundreds

 of our students 

generating money from Onlyfans.
LOCK IN YOUR PRICE
BEFORE IT INCREASES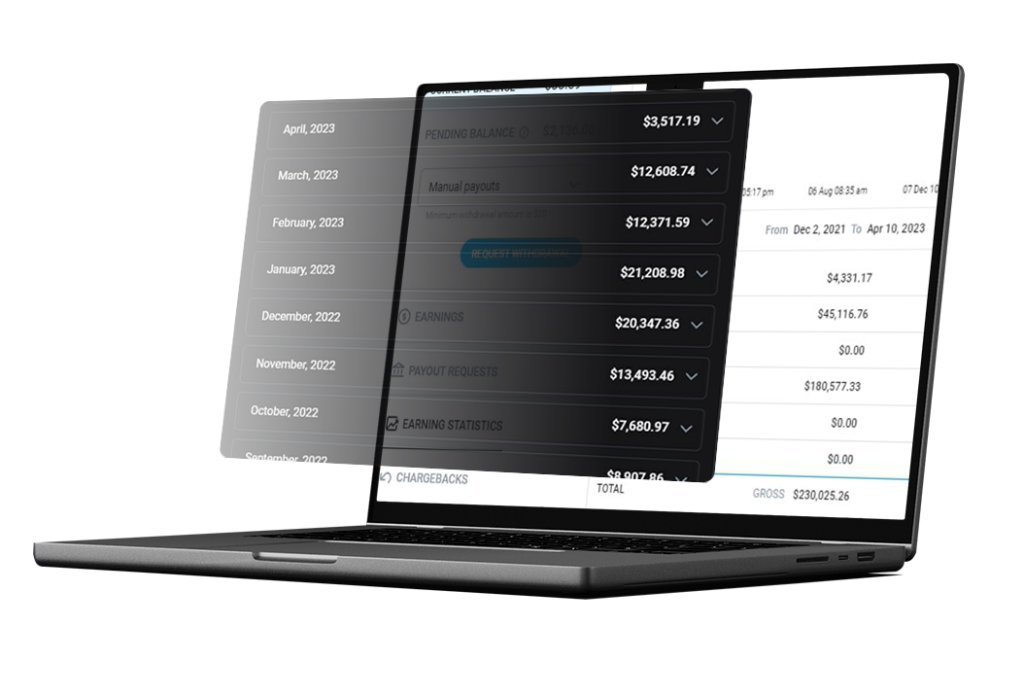 You will get access o 30+ hours of expert agency building and well-structured tutorials covering everything from the fundamentals of OnlyFans business to
niche strategies. 
Regularly Q&A Calls With Jermaine
This is an opportunity for the community to share ideas, ask any questions directly with Jermaine, and help resolve any burning questions or bottlenecks you may be facing in your business.
For whatever reason, if you cannot make the calls, this will be recorded and uploaded to the program itself, so you can watch this back in your own time as many times as needed.
Entrepreneurship is a very lonely place, so sometimes it's nice to catch up with others in the same shoes as you!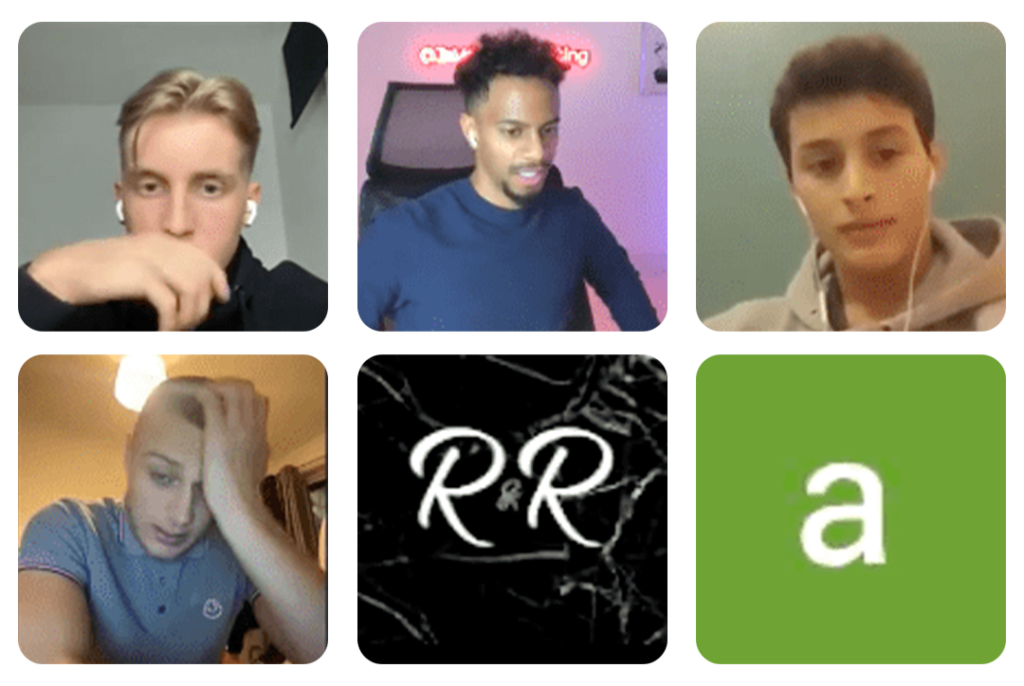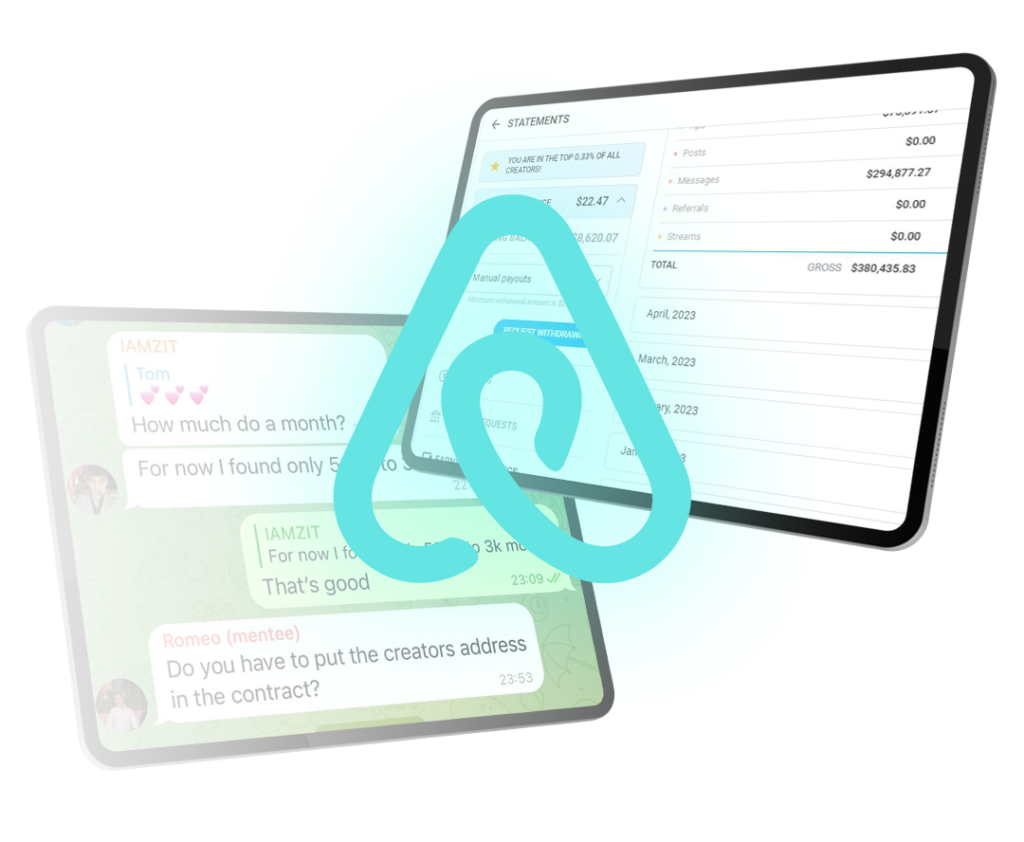 An exclusive community with 250+ like-minded students
Our online community is a supportive, high-focus environment. 
Everyone is on the same mission:

building OnlyFans business.
Earning money on OnlyFans is a skill. Just like any other skill, it's something that can be acquired through learning, and the pace of your learning largely depends on the guidance you receive from experienced mentors and the learning environment you engage in.
ONLY ASTRA ACADEMY is the ultimate all-in-one learning platform, taking you from your initial earnings to the journey of scaling your presence into a lucrative business.
There is no other platform on the internet that offers
a way to master the art of making money on OnlyFans today.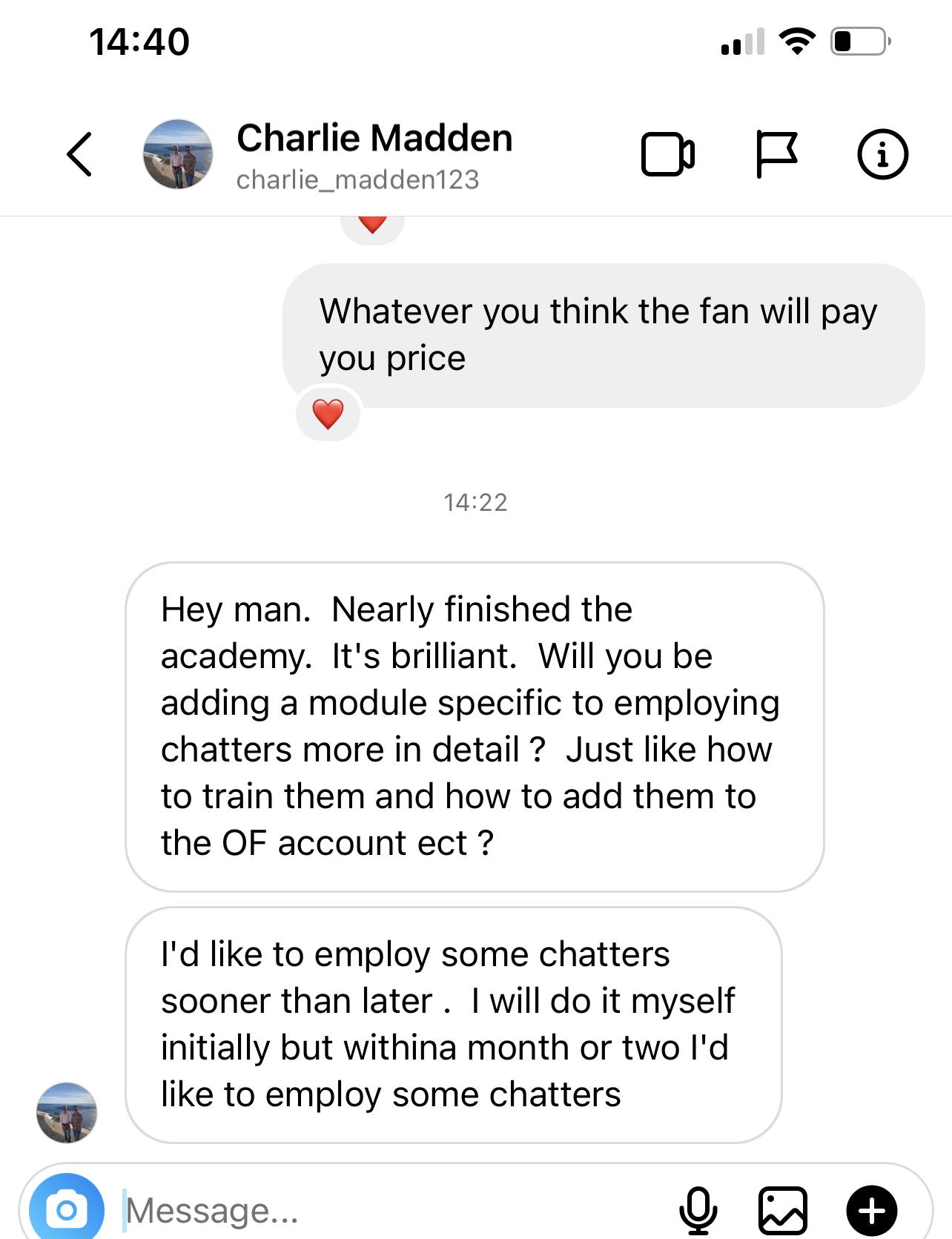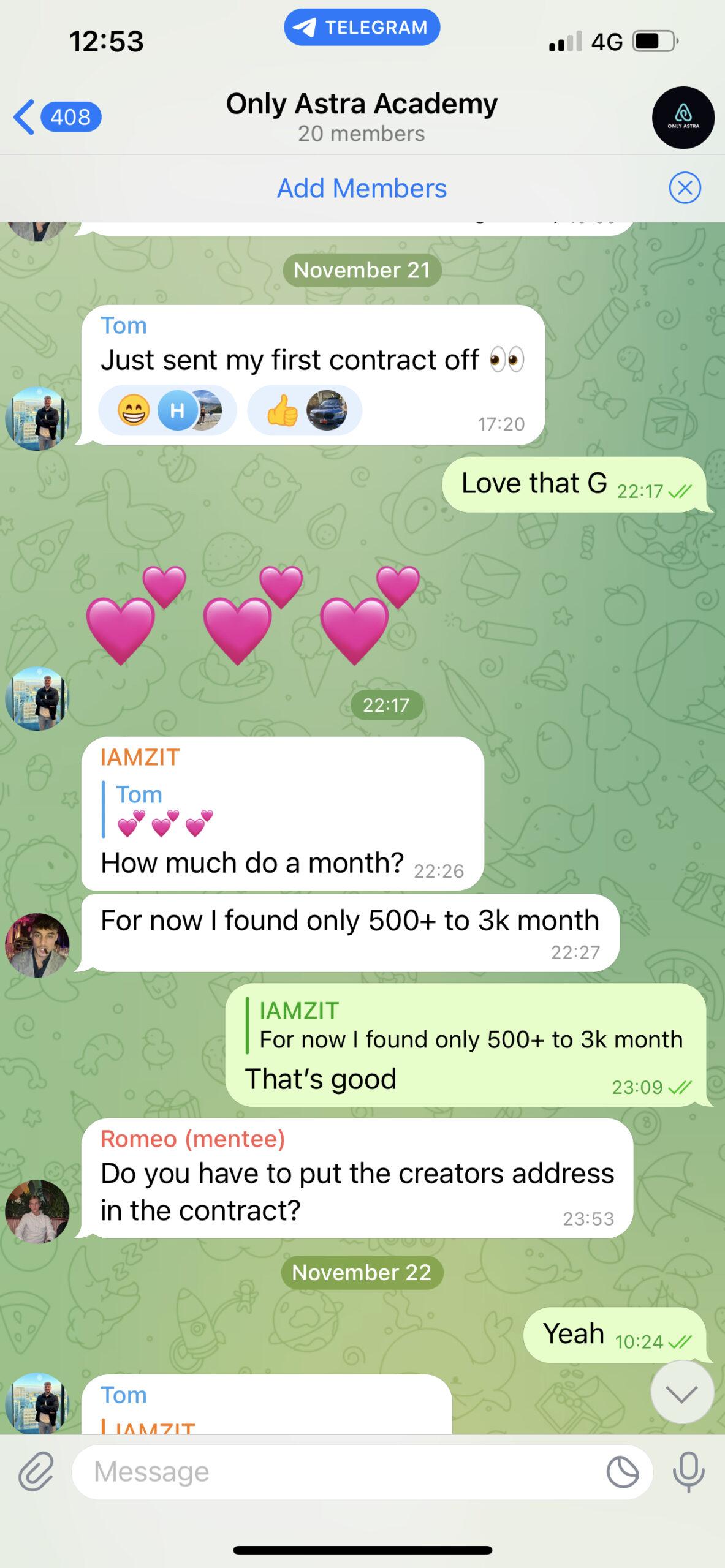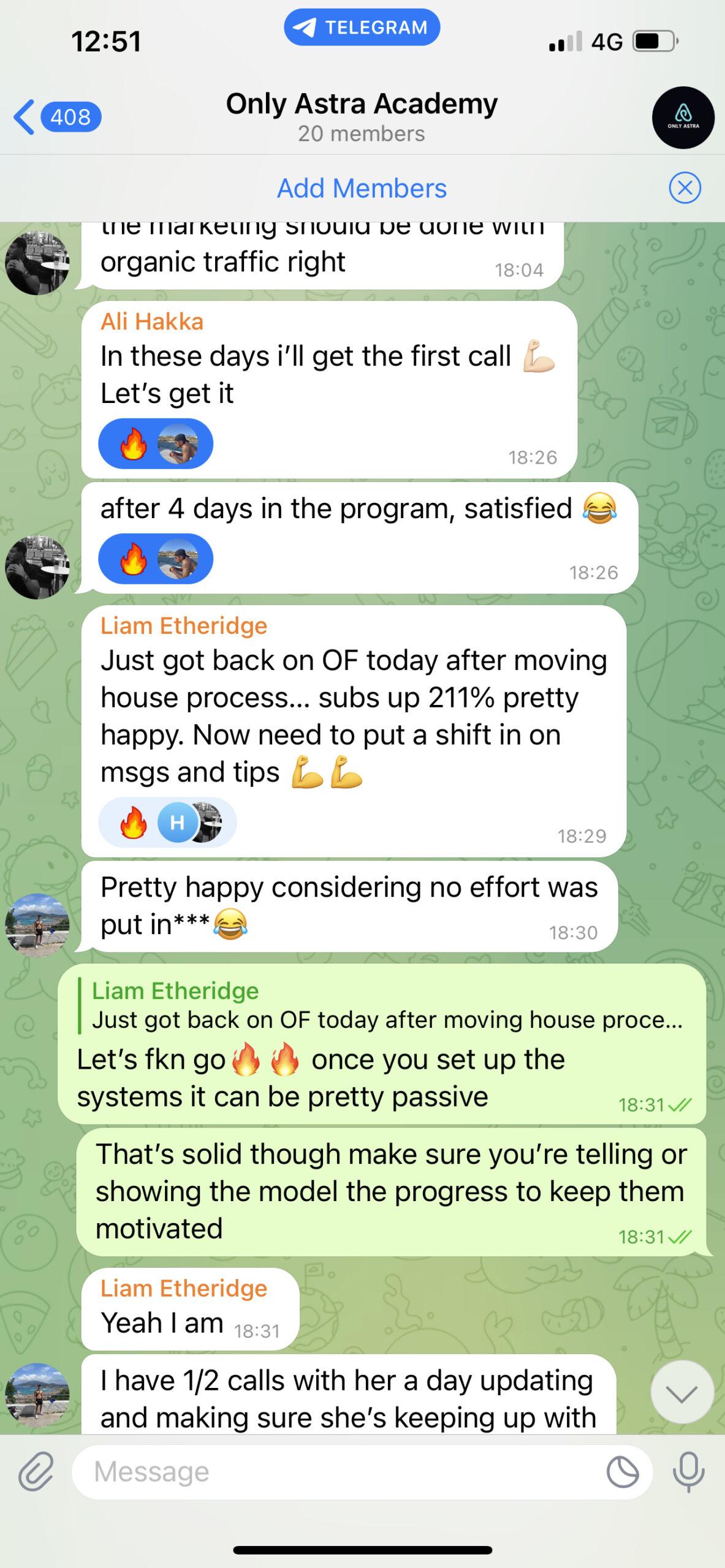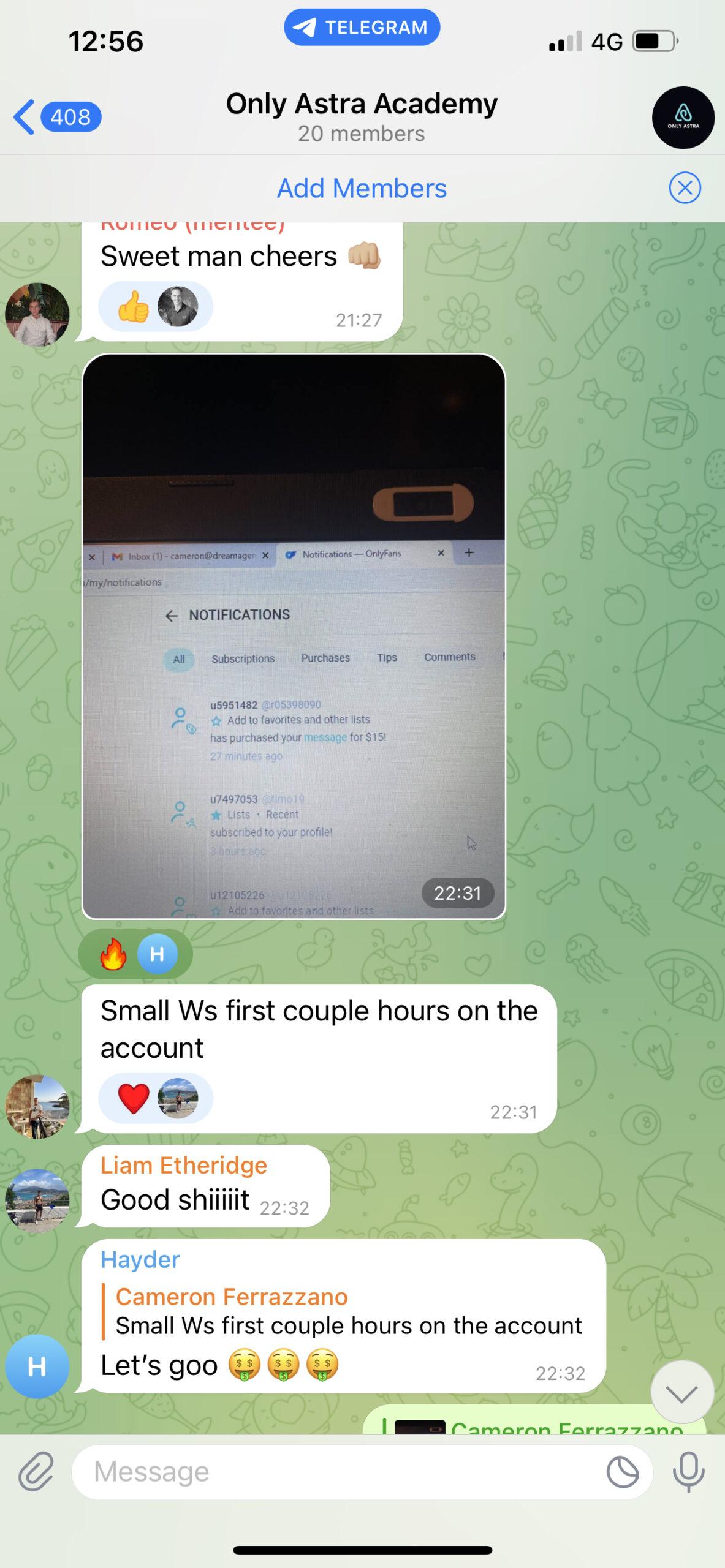 LOCK IN YOUR PRICE
BEFORE IT INCREASES
Go watch Netflix. Work a 9-5.

WARNING: PRICE INCREASING SOON
LOCK-IN YOUR PRICE OF $579
The price will increase to $997, it's your last chance.
Hundreds of students have already joined 
Only Astra Academy 

and are on their way to build 6 figures business. Join now before the price increases to $997. Don't miss out on this opportunity.
Frequently Asked Questions
How Much Do I Need To Start?
Due to this business model's incredible opportunity, you can start an OFM with as little as $50!! This would just be the cost of a google domain, cheap logo creation, and a few aged emails and that's basically it!
How Much Time Do I Need To Spend In Order To Have A Successful Agency?
You get what you put in. The more you can commit the quicker you will see results. Ideally, 3-5 hours a day to start is great! You can easily do this with a complete 9-5. Remember, only you can change your current circumstances.
Are Bots Included In The Program?
Yes, 100%. You will receive the resources and access to all the bots we use at Only Astra Agency